Upcoming Events At St Peter's
Stanton Lacy Parish
The Queen's Platinum Jubilee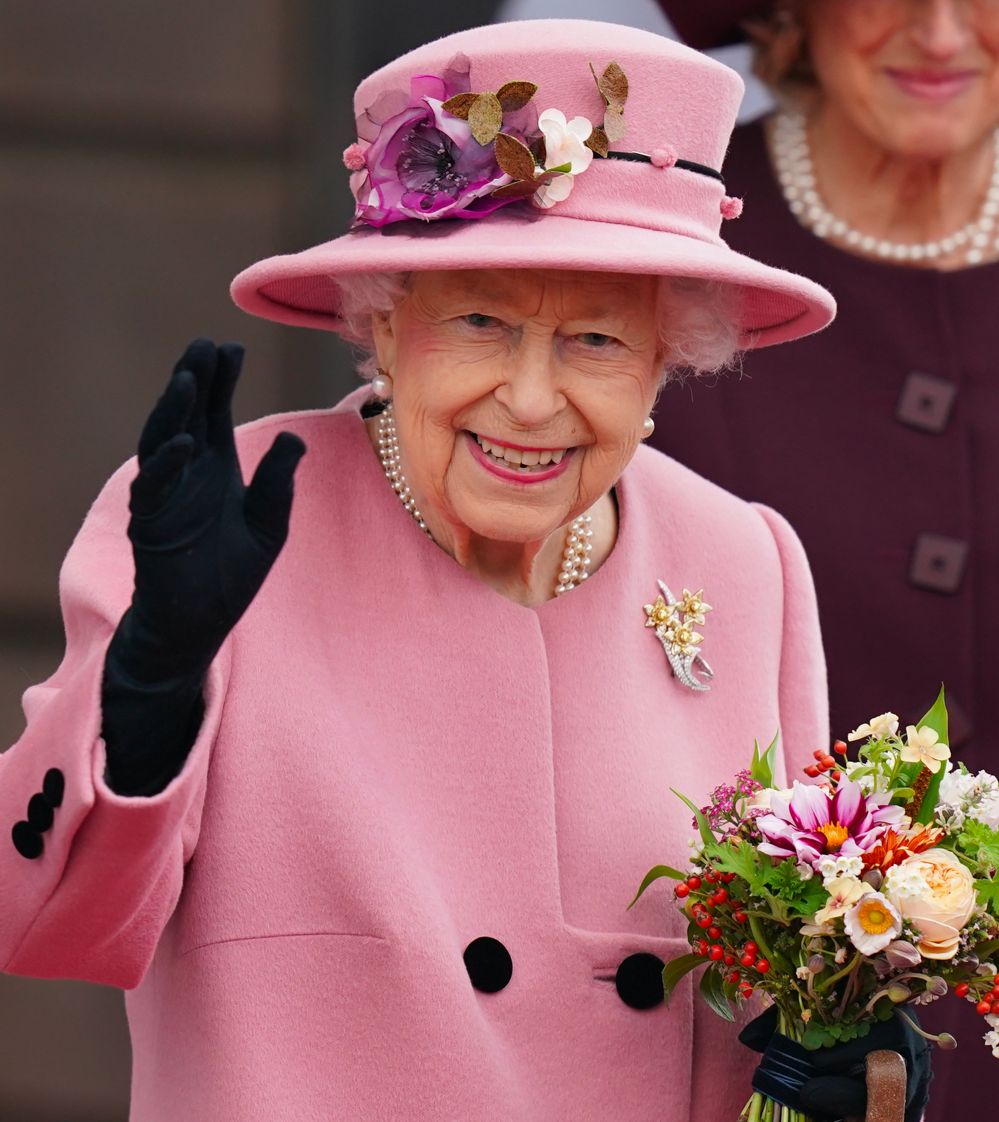 The events held for the Platinum Jubilee are described below.
We also put together a short video to highlight some of the activities and to hear from local people about their own memories. The video is available by clicking the button below.
St Peter's Church Taking Part in The 'Queen's Green Canopy'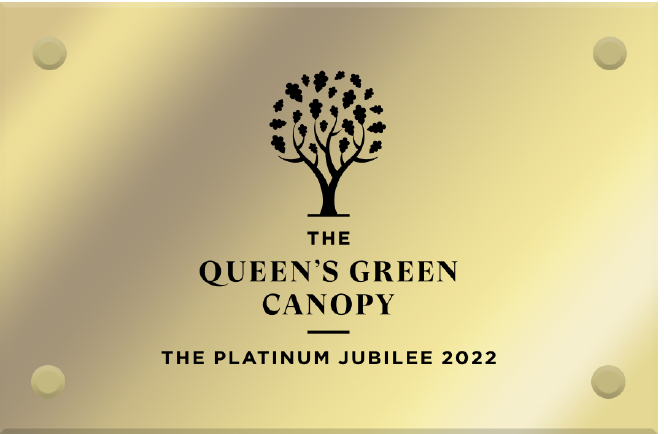 Date: Saturday 26th March 2022
Time: 3.30pm
Everyone welcome
We have a lovely Churchyard at St Peter's with a mature arboretum. Sadly, some of the trees have now come to the end of their natural lives and others have been badly damaged by recent storms. So, we need to start re-planting.
One of the national events planned for Her Majesty's Platinum Jubilee in 2022 is 'The Queen's Green Canopy'. It is a unique tree planting initiative which invites people from across the United Kingdom to "Plant a Tree for the Jubilee".
In conjunction with the Parish, we are planting an Oak tree in the churchyard. The tree is being provided by local farmer Mr Robin Gatehouse, who grew it himself from an acorn.
The churchyard already contains trees planted in 1977 commemorating Queen Elizabeth' II's Silver Jubilee and this will be a welcome addition.
We will continue to look at options to increase the number of trees we plant. We want to build on the recent work done in the Churchyard by 'Caring for God's Acre', continue to enhance the arboretum and sustain it for the future as a much loved community resource and a continuing place of reflection. If you would like to make a donation to support this work please contact the Church Warden, Jennette Arnold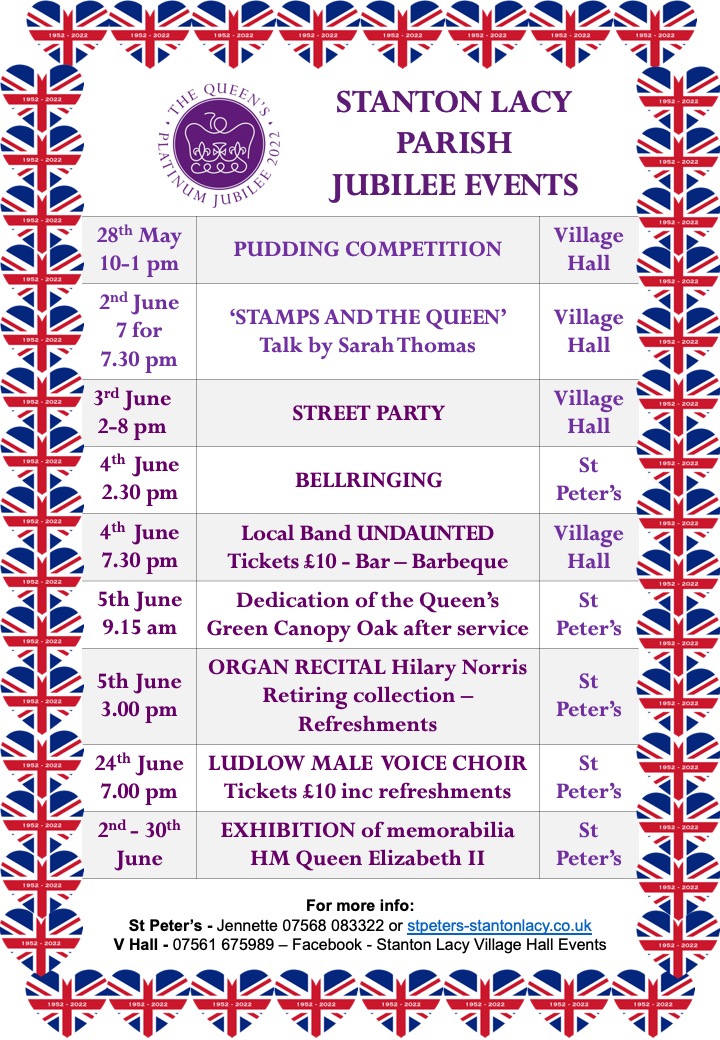 Dates: May and June 2022
We at St Peter's are working with other colleagues across the Parish to prepare a programme of events for the forthcoming Platinum Jubilee of HM Queen Elizabeth.
The combined programme for the Parish is shown opposite, and more details on specific events are shown below as they are finalised.
We are especially keen to share the memories local people have of the 1952 accession of Her Majesty to the throne; or of the 1953 Coronation. Whatever you have - photographs, any memorabilia of the time and indeed any stories (which we can write up or record as videos or audio files) are all welcome. We will take copies of your photos so you can keep the originals, and keep anyhting else you give us safe until we return it to you.
It will all be included in an exhibition, which we will set up at the Church and keep running from throughout June.
Please look out for further updates on the website and around the parish; if you would like more information or have something to contribute to the exhibition please contact;
Jennette Arnold on 07568 083322 or
Sarah Thomas on 07542 939 720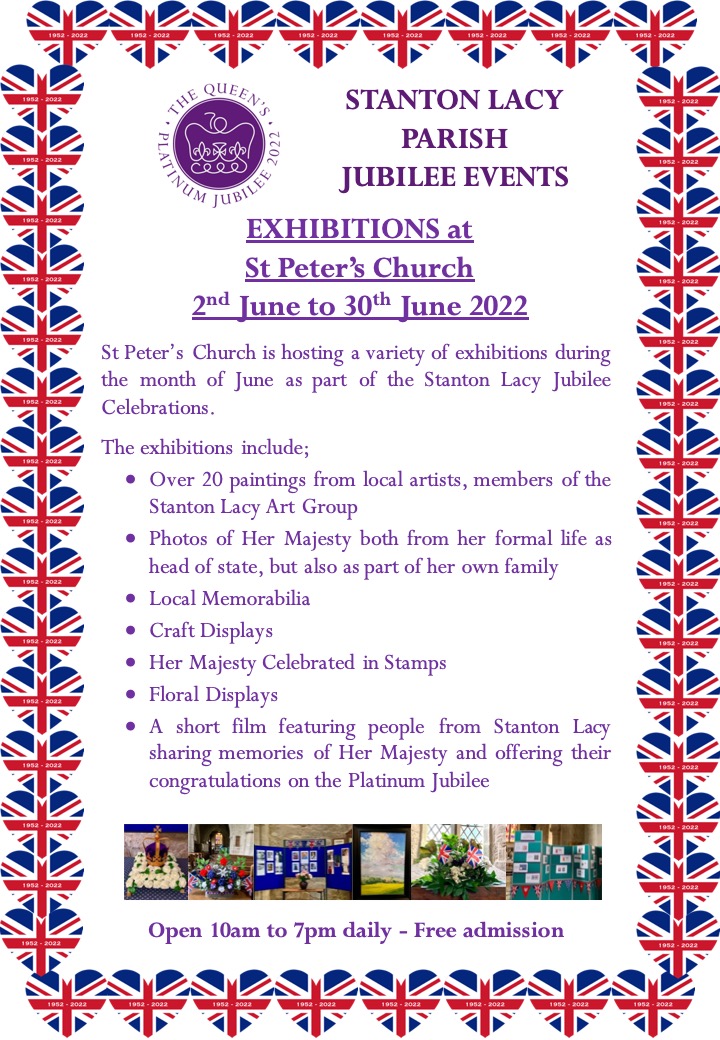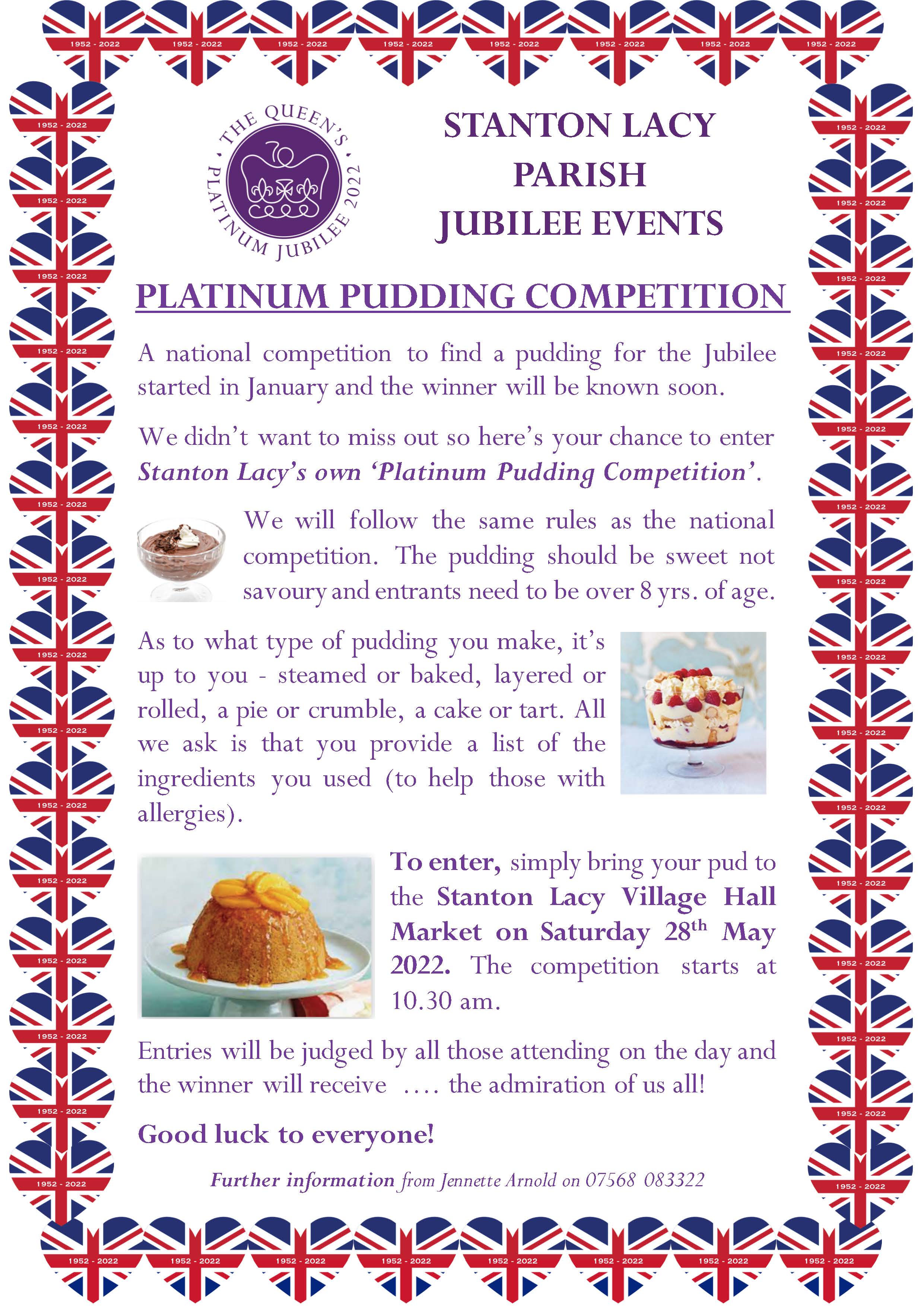 STOP PRESS - for the Stanton Lacy competition there were 17 entries in total. It was a close race with 5 puds sharing second place; but the overall winner was the roulade (below) made by Geraldine (Jo) McLachlan. Congratulations to her and to everyone who took part!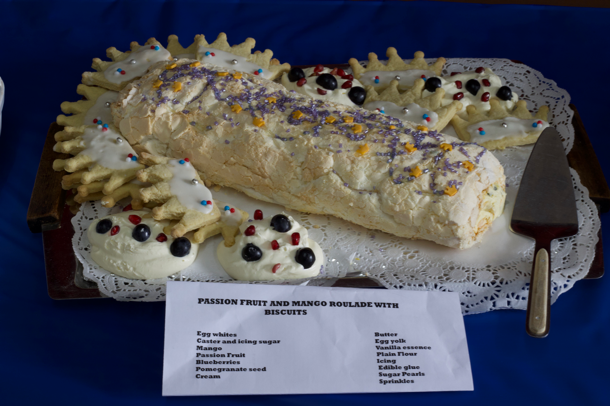 The National Pudding Competition winner was announced on 12th May. Jemma Melvin won the competition with her Lemon Swiss Roll and Amareti Trifle. For further details and a link to the recipe, click here.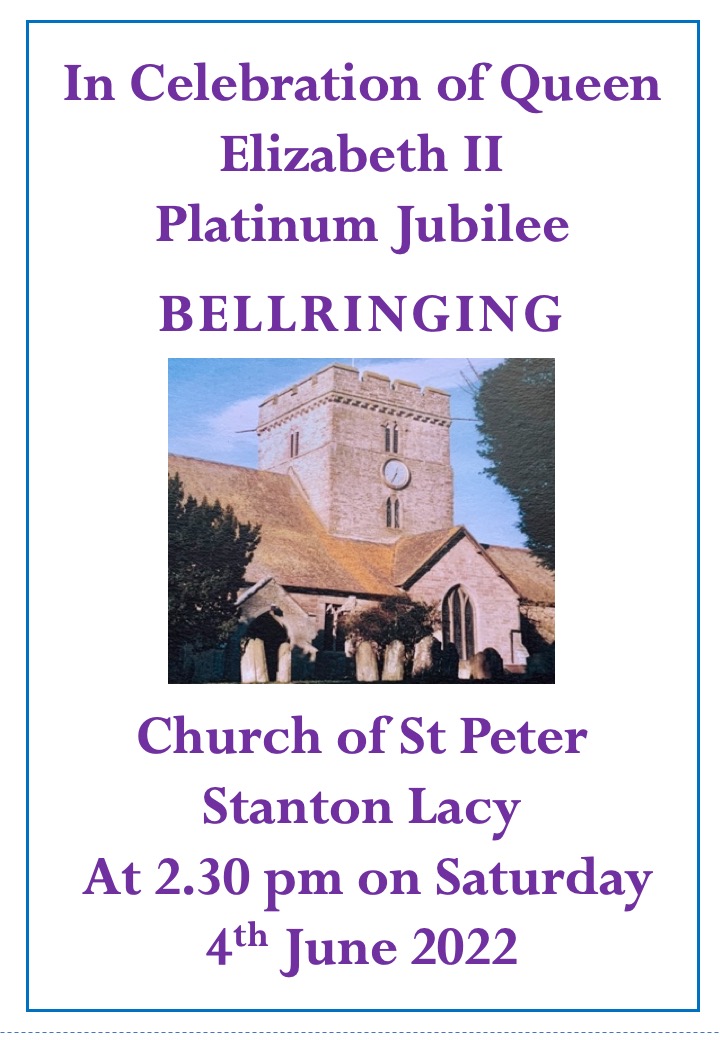 Date: 4th June 2022
Time: From 2.30pm onwards
The Bells of the Church of St Peter, Stanton Lacy will ring in celebration of the Platinum Jubilee.
The quarter peal band ringers are:
Rachel & David Everett from Lichfield
Paul Wells and Peter Cherry Sell from Ludlow
Chris Slater, Graham and Denise Fletcher of Stanton Lacy Tower (Graham Fletcher also rang these bells in 1953 for Her Majesty Queen Elizabeth's Coronation)
The team will be ringing the method Grandsire Triples and attempting a quarter peal of 1260 changes!
You can see a picture of the Bellringing Team and hear a sample of the quarter peal by clicking on the button below. When the file opens, download it to your own PDF reader and move your mouse over the picture.
Previous Events at St Peter's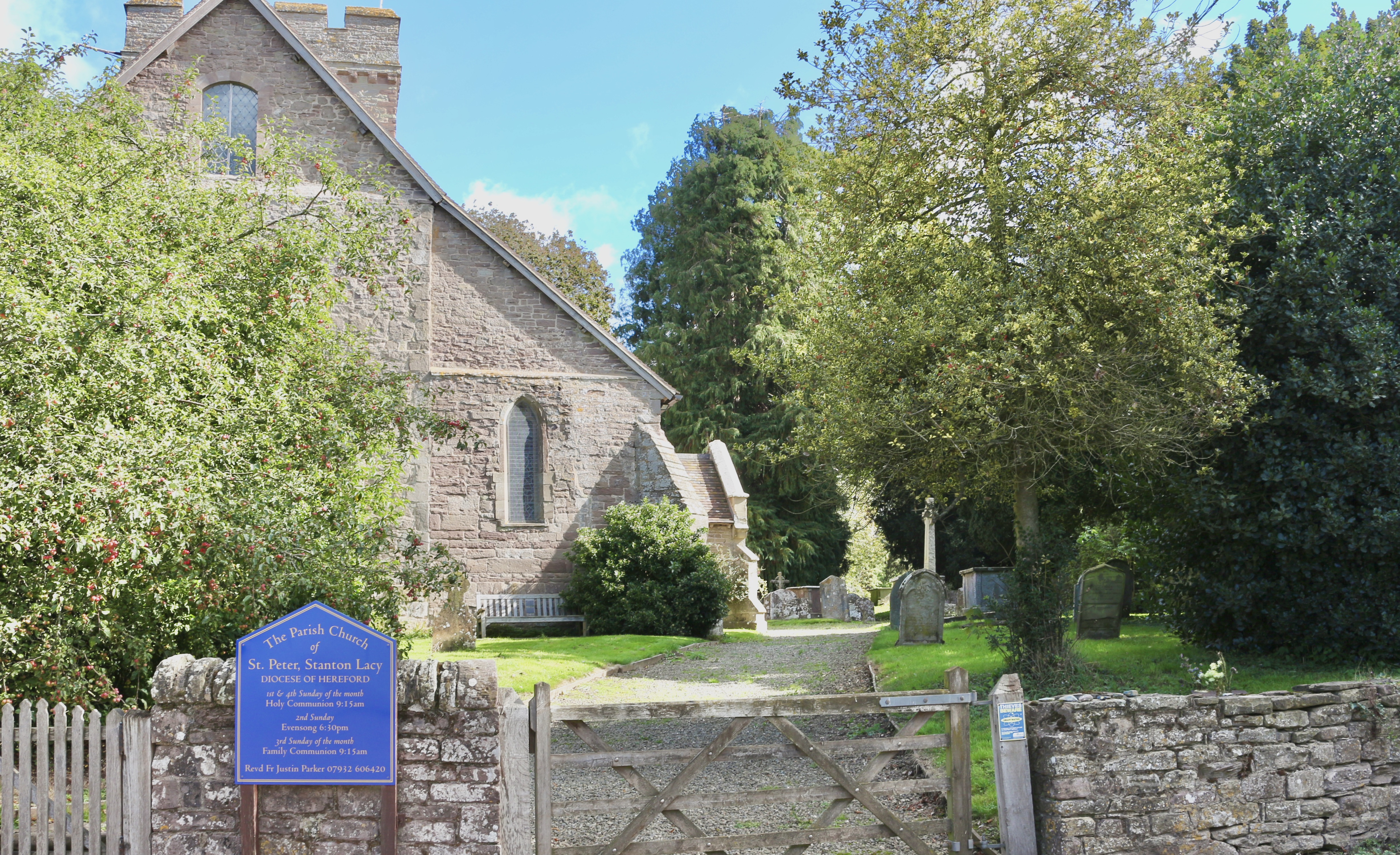 Image by J. S. Arnold
We managed to begin organising events again at St Peter's, post-Covid, from September 2021.
If you would like to see what we have been up to, please click on the link below;